2018 SPRING SKC New Student Orientation
Mark your calendar! Salish Kootenai College New Student Orientation (NSO) is Friday, March 30th, 2018, 8:30 AM - 4:30 PM.
NSO will begin 8:30 AM  Friday, March 30th at the Robert DePoe III Building (see campus map below) with a Meet and Greet Session including a coffee bar and music. Please check in by 8:45 AM.
You will receive a full NSO Agenda along with a "Passport To Success" once you have checked in.
Things to Bring with you to NSO:
Your NSO Packet - SKC Student Folder and Contents
Financial Aid Documentation
Completed TABE Assessment and/or Advanced Placement
Good Walking Shoes
Backpack, Notebook & Writing Utensil
Guiding Principle of New Student Orientation
Salish Kootenai College New Student Orientation is designed to provide students with important information about college services, learn to navigate campus, and make connections with advisors, staff and faculty. Students will become part of the SKC family by learning academic expectations/requirements and familiarize themselves with campus life. Through engaging fun activities, new students will have their questions answered, meet one another, and become connected with SKC.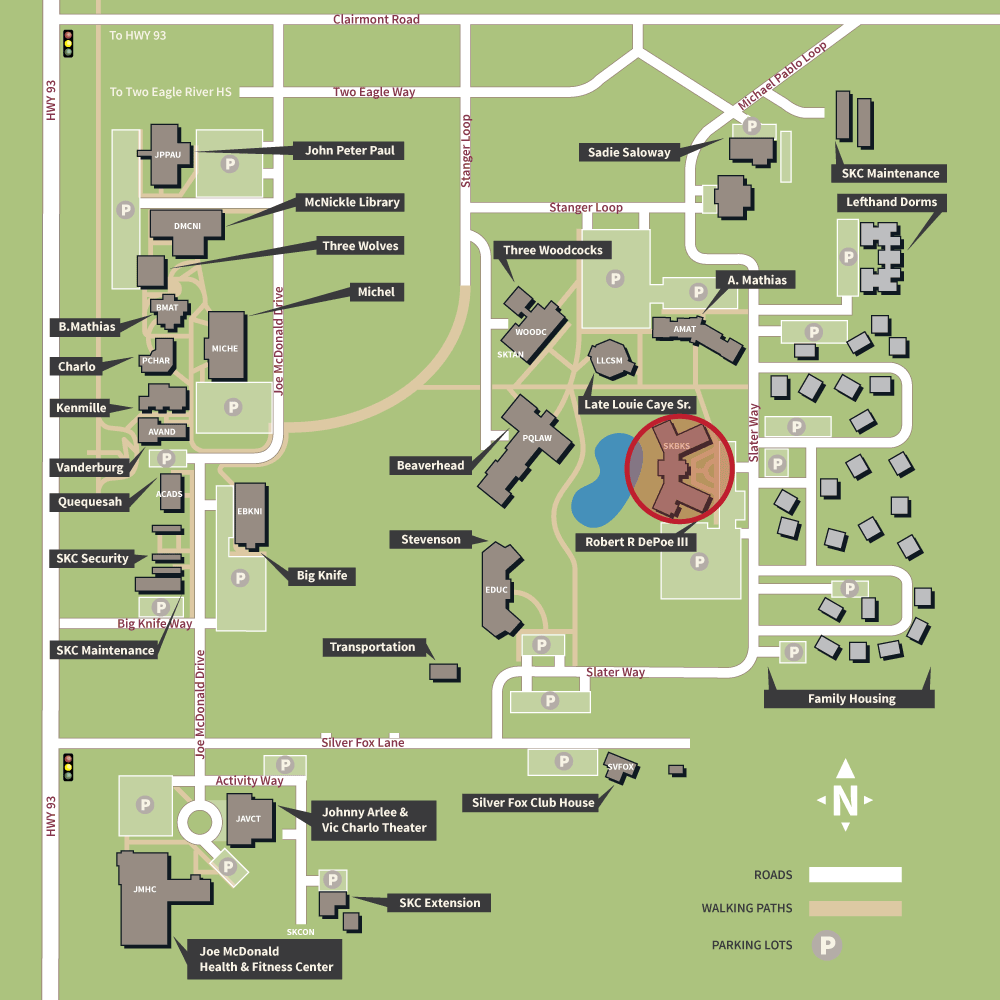 WHILE AT ORIENTATION YOU WILL.
Get to know the campus and the resources available to you
Find out about activities and clubs available to students
Gain more confidence with your choice to become a college student
New Student Orientation is required for new students attending SKC for the first time.
Parents and guests are also encouraged to attend orientation.
2017-2018 NEW STUDENT ORIENTATION DATES
Fall Term: Thursday, September 21 – Friday, September 22
Winter Term: Friday, January 5, 2018
Spring Term: Friday, March 30, 2018
2 - HAVEN & ALCOHOLEDU TRAINING
Salish Kootenai College and the Center for Prevention & Wellness want to work together with you to create a fun, healthy and vibrant campus community. As part of that commitment, we require all students to complete HAVEN and AlcoholEdu -- engaging online, research-based programs that provide a unique learning experience regarding important prevention skills and strategies for our students.
If HAVEN and AlcoholEdu are not completed, you will not receive your Financial Aid and a hold will be placed on your account. Once these are completed, the hold will be removed and you can register.
Please enter the school code 02be33ad and click I'm a student to create your Haven account.
Click below to begin both Haven and AlcoholEdu.